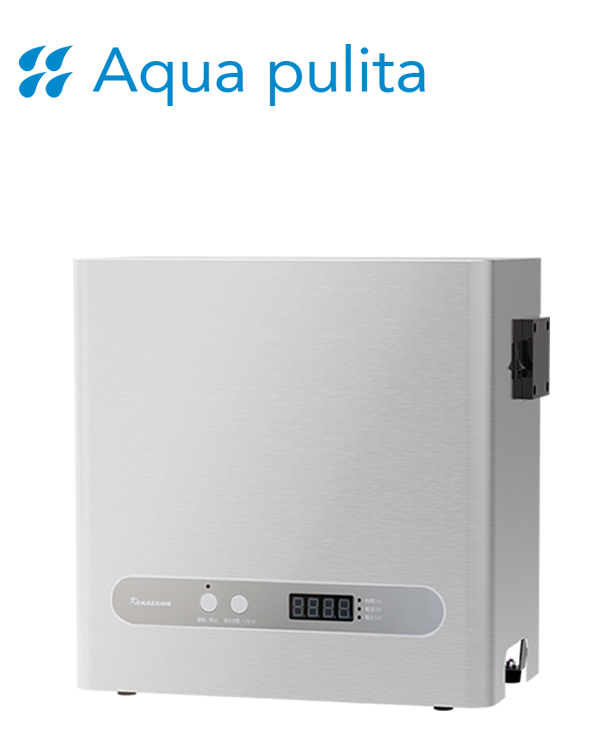 "Electrolysis Water" Contributes to a Cleaner and Hygienic Environment.
"Electrolysis Water" Safeguards the Safety of Foodstuff.
Electrolysis water (hypochlorous acid water) and alkaline electrolysis water are both produced by electrolyzing water and salt. Each water has its own merits and convenient and easy to use. The electrolysis acid water having a high effect to bacteria and virus is useful in a wide range of fields including hygienic management, cleaning facilities, safeguarding foodstuff, etc.
The electrolysis water generator is licensed from TOSHIBA Corporation.

For those who are considering hygienic management of facilities.

For those who are interested in foodstuff uses.
3 types of products for selections to meet your needs.
3 types of Aqua pulita products with each different effective chlorine concentration are readily available.
The best available type of products will be suggested for your needs.
As all the three products are in a compact size in their outer dimensions, they are placeable anywhere and space saving.
※Applicable to KEW-A009 series
Sterilization and Deodorization of Facilities and Equipment Uses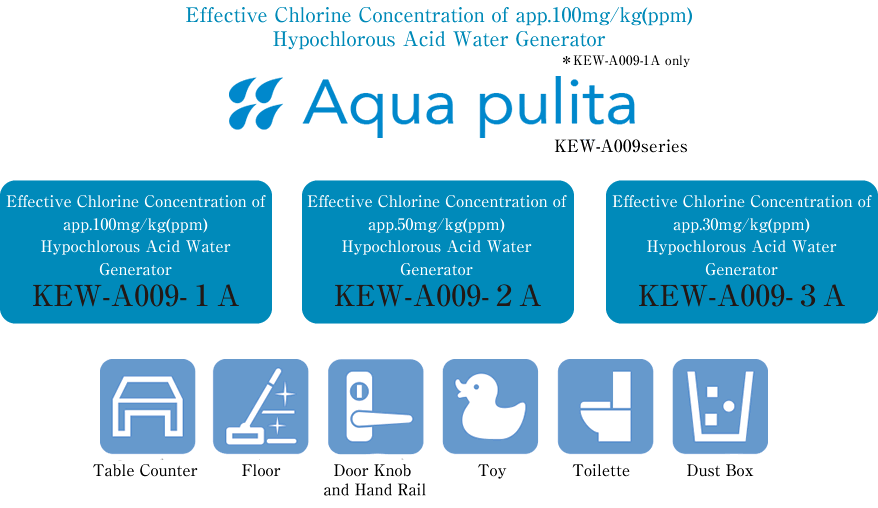 It works for anti-bacteria and anti-Virus!
"Electrolysis Water" supports everyday hygienic environments.
What is hypochlorous acid water all about?
Hypochlorous acid water is used for a variety of sterilizations and deodorizations.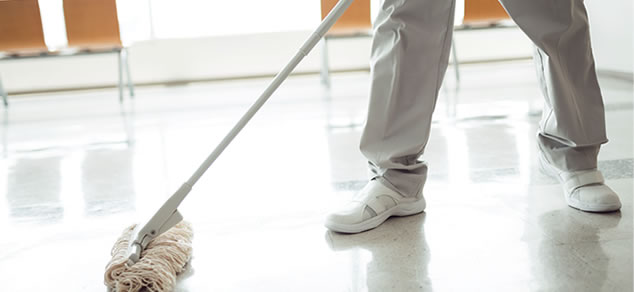 Reliable Sterilization Power
Effective to a variety of anti- bacteria and anti-virus.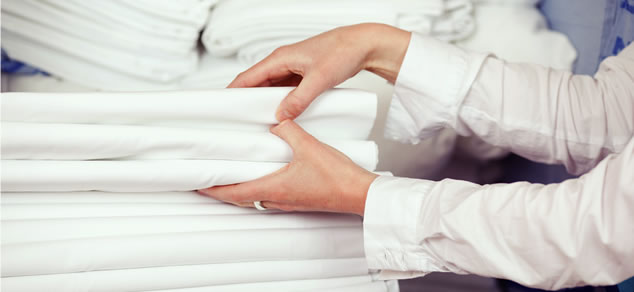 Strong Deodorization
Effective to unpleasant smell.
(Including methyl mercaptan, ammonia, tri-methylamine, etc.)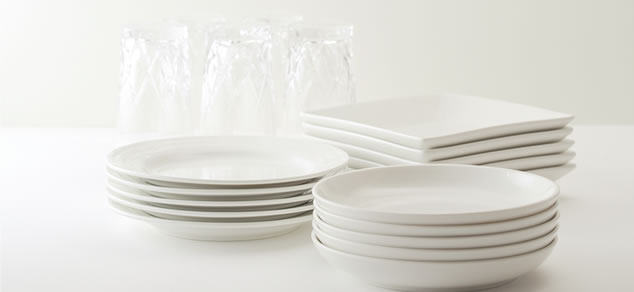 Excellent in Safety
Highly safe water without residual property and hardly irritating the skin.
Everyday Safe Hygienic Management and Prevention of Unpleasant Smell
Electrolysis water with highly effective anti-bacteria and anti-virus is commonly used in many facilities.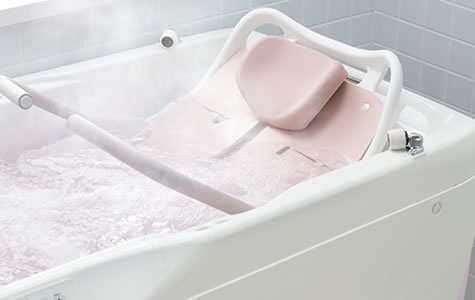 Medical and Nursing-care Facilities
Sterilization of shared apparatus and deodorization of sheets.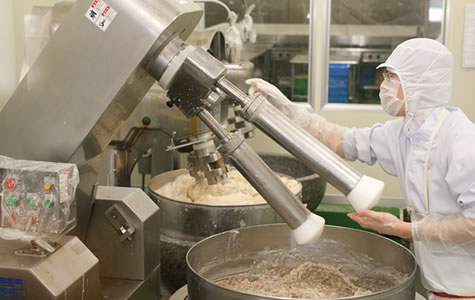 Food Processing Factory:
Cleaning and deodorizing food processing machine and apparatus.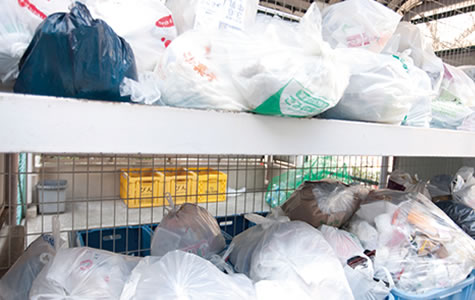 Garbage Collection Area
Deodorizing garbage odor in facility.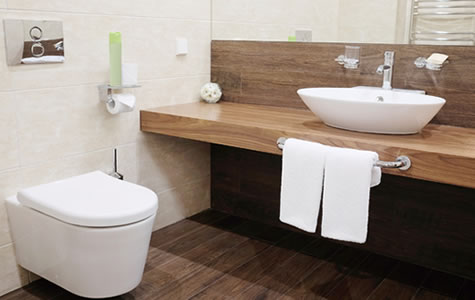 Toilette
Sterilizing toilette seat.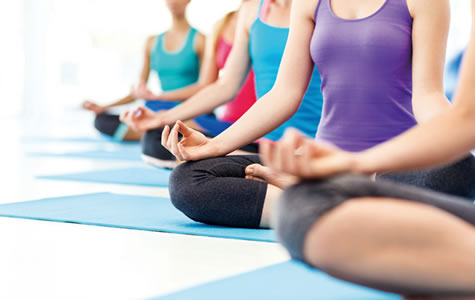 Sports Club
Sterilizing and deodorizing sweated sporting goods and gym mats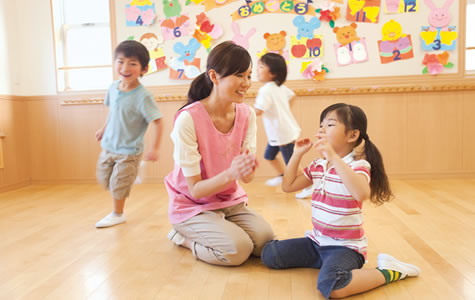 Nursery
Sterilizing and deodorizing toys and a shoe box.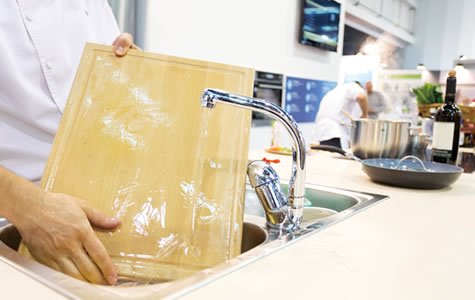 Kitchen
Sterilizing and deodorizing cutting board and cooking utensils.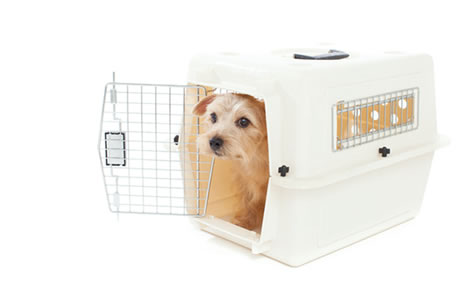 Pet Shop
Deodorizing pet goods.
Sterilizing Food Materials and Foodstuff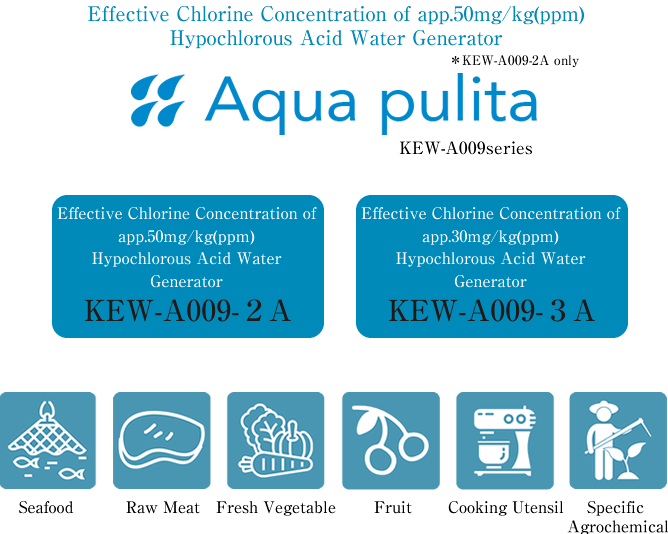 Defeat even Norovirus!
"Electrolyzed Water" safeguards food materials and foodstuff.
What is hypochlorous acid water?
Hypochlorous acid water has been used such as for cleaning and sterilizing food materials and foodstuff. It effects immediately and does not contain harmful substances.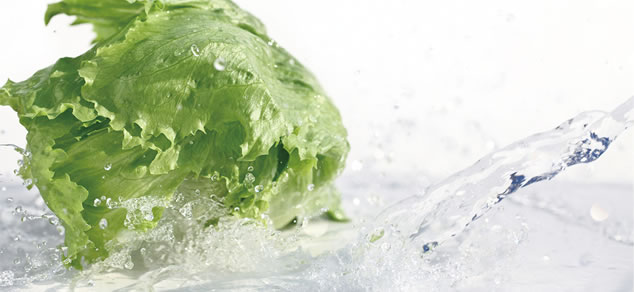 Reliable Immediate Effectivity
Having a high bactericidal activity and an instantaneous effect.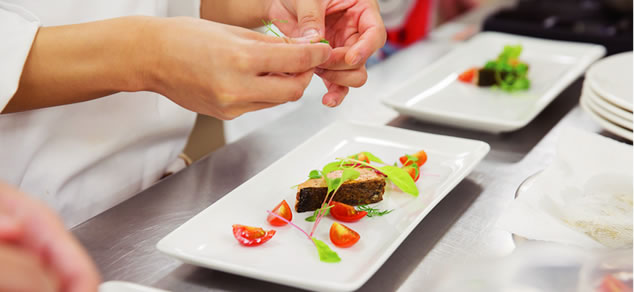 Strong Sterilizing Power
Effective to a variety of anti-bacteria and anti-virus on foodstuff.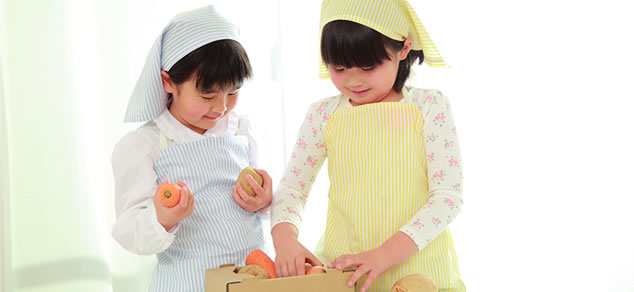 Excellent in Safety
It is highly safe water with no harmful substances and hardly irritating skin.
Electrolyzed Acid Water performs a high sterilizing
effect immediately only by washing and rinsing foodstuff.
It has been used at a variety of backyards to treat fresh foodstuff hygienically.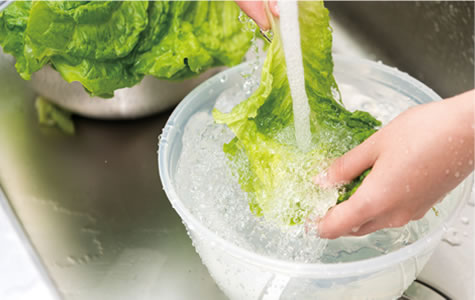 Restaurant:
Fresh vegetables can be washable at ease without worrying remaining odor.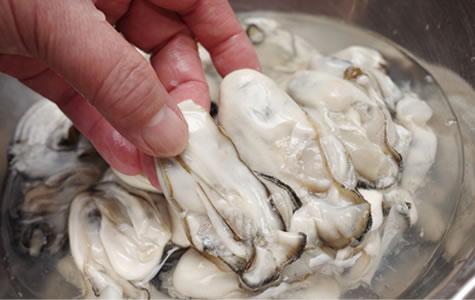 Seafood Processing Factory
Effective to the norovirus attached to oyster and shellfish.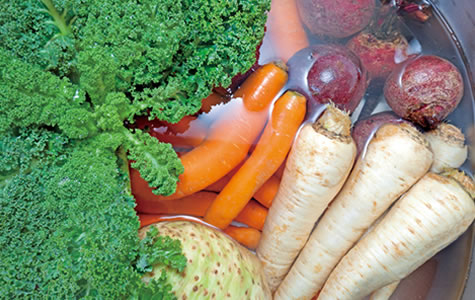 Agricultural Facility
Best fit to organic vegetables without residual effects even by soaking and washing.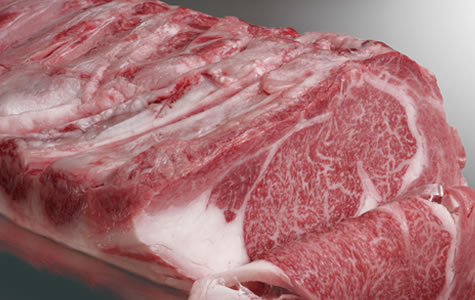 Meat Processing Factory
It has been used in many operation processes such as for raw meat, processing apparatus.
Kanazawa's Aqua pulita is distinguished in the followings.
A 3 Chamber Structured Electrolysis Water Generation Device
Electrolysis water generator "Aqua pulita" adopts a three chamber structure with a two membrane three chamber type,
which generates two sorts of sodium free electrolysis water by the electrolyzation with water and salt as raw materials.
The two kinds of electrolysis water have their own merits. Electrolysis acidic water is usable easily and conveniently like in the same way as tap water.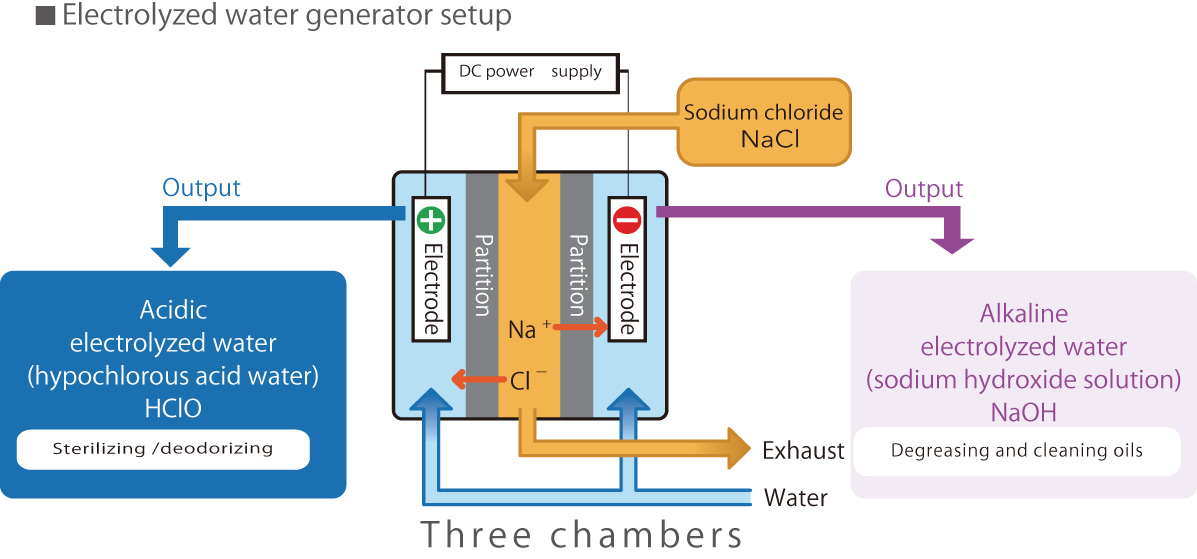 4 Points of a 3 Chamber Structure

Electrolysis Water with Effective Chlorine Concentration of app.100ppm.
A product is available for generating electrolysis water of an effective chlorine concentration of app. 100ppm.

Metal Corrosion Protective due to Sodium Free Electrolysis Water.
A two membrane and three chamber cells enable generating the electrolysis water free of impurities and salt. Rust formation is less than the hypochlorous acid water containing salt.

Generating with water and salt only. Low running cost.
As it avoids using valuable and dangerous chemicals, and water and a bit of salt are good for generating the water, the running cost is lowered and safer.

Electrolysis alkaline water is generated. High performance of degreasing by electrolysis alkaline water.
Not only hypochlorous acid water, but hypochlorous alkaline water is generated at the same time, Hypochlorous alkaline water is effective in cleaning oil stain and can be used for degreasing and cleaning.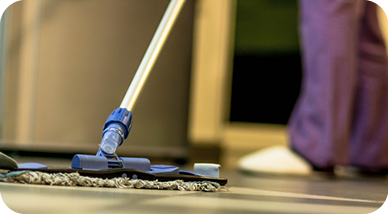 Floor cleaning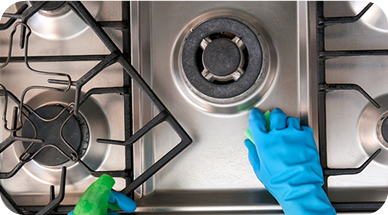 Oil spots cleaning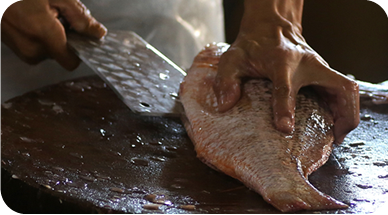 Slime removing from cooking utensils
Introduction Example
Purpose
Facilities Hygiene
Product
KEW-A009-1A
Shirayuri Kindergarten
Shirayuri Kindergarten introduced "Aqua pulita" to improve the facility hygienic management, a Certified Center for Early Childhood E......
read more
Frequently Asked Questions
Q. Is the pure water (RO water) available, too?

A.

Available. But pH of the electrolysis acid water (hypochlorous acid water) falls to around 2 to 3.
Q. Can we just use the generated water as it is?

A.

It is based on just using hypochlorous acid water produced by the device as it is.
Q. Is there the limitation to the device installing place?

A.

Please install it in the well ventilated indoor place basically, (Because a very small amount of hydrogen gas, and chlorine gas are generated from the electrodes.) In addition, please do it under the environment without the fire nearby, with room temperature in 40 degrees Celsius or less and that does not freeze. When you use water cistern, please install it at the lower place than the main device in height.
Q. How much is the running cost?

A.

With the raw materials of water and salt (sodium chloride [NACL]) and electricity only and needless to purchase and store chemicals, the running cost is comparatively economical. In case of KEW-A090-1A, the cost of producing 1 ton of water is about 150 yen. But the water rate is not included because it varies according to the local governments. It does not include the periodical maintenance cost every 2000 hours either.
Q. Is there the standard in the quality level of the raw water?

A.

Please use as raw water the tap water that cleared a drinking water standard or the industrial water or pure water that cleared the items stipulated by water laws through after cleaning water. When it is more than 1mg/L of total hardness (hardness), soft water processing is necessary and the setting of the water softener is necessary. If the customer uses water of industrial use (groundwater, underflow water, river water, etc.) as raw water, water quality measurement becomes necessary in accordance with the required usablility as raw water. The recommended water supply pressure of raw water is 0.15 to 0.35MPa. Even when there is less water supply pressure than this, you may use it, but electrolysis water production decreases, and an available chlorine concentration may change.
Q. Is there any problem even if it is just discharged as it is?

A.

There is not any problem even if you just drain it in the case of a small quantity. However, considering the effluent standard of the customer, the customer is expected to neutralize it. In addition, please do not drain it directly to the organic substance processing tank processed by the microbe.
Q. Is there any designation applicable to purity and water content of the salt (sodium chloride [NACL])?

A.

Please use the refined salt with 99.5% or more of sodium chloride (Salt Industry Center of Japan make is recommended). Please use the 25 kgs of refined salt by all means. Please do not use the 1kg of refined salt because it is added with magnesium carbonate. If you use table salt and mineral-rich salt/halite, as it is rich in impurities and low purity, the electrolysis cell life is influenced. Do not use it.
Q. Does the water softener need maintenance?

A.

By residual chlorine and iron content included in raw water, the driving situation and setting environment ( temperature, vibration) including reproduction number of times, life of the ion-exchange resin fluctuates, but the ion-exchange resin once in three years and filter exchange are necessary. Please read instruction manuals of the water softener before use carefully.
Q. Is it effective to intestinal hemorrhagic Escherichia coli O157 or norovirus?

A.

As for the hypochlorous acid water produced by our electrolysis water generator, it is confirmed that there is an effect to sterilize germs and norovirus (*1) such as staphylococcus aureus, Escherichia coli attaching to foodstuff in a short time. (*2) As the hypochlorous acid water decreases sterilization activity when organic matter exists, the expected sterilization effect will be explicit by processing with hypochlorous acid water with enough cleansing beforehand.
*1 It is confirmed with substitute virus, Calicivirus and mouse norovirus.
*2 State without the organic matter in test tube.
Q. I want to use it for the sterilization of foodstuff. Are there a smell and the residual property?

A.

Our electrolysis water generator produces acidulous hypochlorous acid water composed primarily of hypochlorous acid receiving the authorization as food additives (sterilization agent). You can use it for the sterilization of such as vegetables, fruit, raw seafood with a slight chlorine smell emanating. A very small amount of chlorine gas is generated around a device in a generation process. Please do not smell it near a device. As for the hypochlorous acid water, it is confirmed not to remain behind immediately after the washing of foodstuff (including precut salad) in responding to organic matter.
Q. The recommended method when sterilizing foodstuff?

A.

After removing dirt ingredients by washing with detergent or alkaline water and tap water, we recommend a cleansing sterilization method of washing away under running electrolysis acid water ( hypochlorous acid water). In addition, a rinse is possible with tap water after the cleansing sterilization.
Q. Is it usable for the sterilization of foodstuff?

A.

You can use the hypochlorous acid water generated with this product as acidulous hypochlorous acid water based on Ministry of Health, and Welfare notification No. 345 (April 26, 2012). You are requested to observe a prescribed ingredient standard stipulated in the standard of food, additive, etc. and the direction for use and please use it appropriately when using.
Q. What is the main ingredient of the generated water?

A.

Electrolysis acid water is hypochlorous acid water, a chemical compound made of hydrogen, chlorine, and oxygen. Electrolysis alkaline water is sodium hydroxide (NaOH).
Q. What is the difference with sodium hypochlorite (water solution)?

A.

Sodium hypochlorite is different from hypochlorous acid water (water solution) in that the sterilizing power is weaker than hypochlorous acid water. As a result, a high concentration use is required. There are cases that the safety and smell of chlorine during operations become problematic. The persistency is higher than hypochlorous acid water, thus more elaborate elimination operation becomes necessary. Commercially available sodium hypochlorite (as an aqueous solution) are available in the market with 5 to 12% high concentration stock liquid. There is the case that the chemical burn of the skin occurs by an erroneous dilution method on its use. However, the hypochlorous acid water generated by this device is acidulous and little irritancy to skin. Even by an accidental swallowing by mistake it may hardly cause health hazard to anybody. However, the person of chlorine allergy, please be careful.
Q. When using the generated water, is any personal protective equipment such as safety glasses, gloves, etc. necessary?

A.

Because the hypochlorous acid water generated by the electrolysis water generator device of our company is acidulous and there is little stimulation to skin, we have confirmed that any health damage hardly occurs even if you touch it. However, the person of chlorine allergy, please be careful. The electrolysis alkaline water generated simultaneously is able to dissolve an oil content. Those anxious of hand chaps are recommended to wear gloves. When it gets into eyes, please wash it with enough tap water immediately.
Q. What happens if produced electrolyzed alkaline water and electrolyzed acid water (hypochlorous acid water) are mixed?

A.

There is no problem if they are mixed. You can bring pH close to neutrality by a mixed rate.
Q. Can I drink the hypochlorous acid water?

A.

As eating and drinking are not aimed, please stop drinking. However, when you have drunk in small quantities by mistake, no health hazard is confirmed but those allergic to chlorine, please be careful.
Q. How many days does the produced hypochlorous acid water last?

A.

If it is in the storage in the sealing state in a normal temperature dark place (or in a shading container) and air tight, it is storable for more than one month. But it is recommended that you use it as soon as possible after electrolyzing it as the effect is the highest immediately after that.
Q. Is it effective against pathogenic bacteria and virus?

A.

Because this product is not medical equipment, it is not allowed to advocate the virtues of the effect on a specific bacteria and virus. About the infectious disease countermeasure of the pathogenic bacteria, virus, please refer to guidelines on Ministry of Health, Labor and Welfare HP.
Q. Is it usable in substitution for a sodium hypochlorite water solution? Is it usable for the disposal of vomit and excreta?

A.

As the hypochlorous acid water deactivates itself as soon as touching the organic matter, it is not available for organic matter disposal such as of feces and vomit and excreta. Please use it for sanitization of the finish after having removed organic matter. About the infectious disease countermeasure such as for norovirus, please refer to guidelines on MHLW HP.
Q. Is it usable with a humidifier and a vaporizer?

A.

Because confirmation is not available for the sanitization effect with the mist of humidifier and influence on human body, the judgement of the customer is asked.
Q. Can it be used for a medical application?

A.

This product is not a medical equipment.
Q. Can it be used overseas?

A.

This product is of the domestic market specification of Japan. You cannot use it abroad.